Season Highlights! | 2022-23
Article | The best Lieder of all time

Read on classical-music.com
---
Article | From cancellation to new vigour: pianist and artistic director Joseph Middleton on Leeds Lieder

Read on theartsdesk.com
---
News | Joseph writes for The Guardian on the problems musicians are facing in a post-Brexit environment.

Read on theguardian.com
---
News | Joseph is interviewed by Gramophone Magazine for their podcast – "Joseph Middleton on playing for singers"
With albums out alongside Mary Bevan, Carolyn Sampson, James Newby, Samuel Hasselhorn and Ashley Riches, the British pianist is much in demand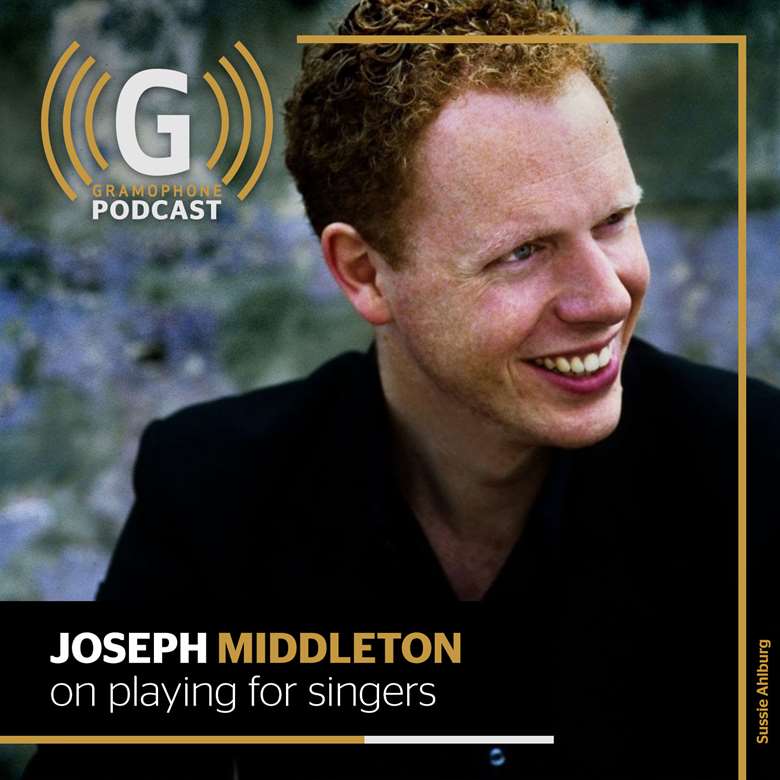 The pianist Joseph Middleton has been busy in the studio and the past months have seen a number of albums released that find him alongside some great voices. It seemed a perfect opportunity for a chat, so James Jolly caught up with Joseph to talk about his role playing for singers, how he builds programmes, the changing landscape for song recitals and how the English have focused on the art of of the accompanist (a word they also discuss).
The podcast contains excerpts from recent recordings featuring Carolyn Sampson, James Newby, Samuel Hasselhorn and Ashley Riches which are also included in a special Apple Music playlist (see below).
---
News | Joseph gives Wigmore Hall/BBC Radio 3 recital with Roderick Williams as part of historic Covid 19 broadcasts
Reviews of the recital include:
"This really is the golden age of accompanists, and we have had some striking examples of that in these recitals, most notably from Joseph Middleton…Middleton's inspired playing…Middleton's playing was as true to Schumann as can be imagined, the delicately hesitant vorspiel and the enrapturing nachspiel so very touching without a hint of sentimentality."
musicOMH.com
"The BBC cameraman perched in the balcony enabled us to marvel at the relaxed sensitivity of Joseph Middleton's fingers as they delicately articulated the accompanying textures, sought out harmonic nuances in support of semantic inflections, and inhabited an understated but telling narratorial role throughout, but especially in the summative postludes, by turns restful and agitated, tragic and consoling. What I found most striking about this performance was the flexibility of the phrasing. The expressive freedom was sometimes quite marked but it never felt anything other than entirely 'right', indicative of a mutual appreciation of the union of poetic and musical meaning…This really was stunning singing and playing"
Opera Today 5*
"Middleton's exquisite playing captured the bird's tender fragility in "An die Nachtigall" and gave a rich, textured backdrop to "Mädchenlied" and "Das Mädchen"…It can't be ignored that the cycle [Frauenliebe und Leben] contains some stunning music and Williams and Middleton teased out a kaleidoscope of emotion from Schumann's score."
The Arts Desk
"Roderick Williams and Joseph Middleton – expressive and nuanced… Middleton relished the piano postludes that amplify the expressive implications of each song."
The Guardian 4*
"Gretchen am Spinnrade" was outstanding in its dramatic tautness…The desolation of the final song, so expressive of the flat grief of bereavement, and the final piano postlude with its poignant reference to the elation of first love and glimmer of consolatory light was exquisitely voiced by both Williams and his admirably sensitive pianist Joseph Middleton."
The Telegraph 4*
"…along with Joseph Middleton's pensive, eloquent accompaniment, this was emotionally rich, highly satisfying lieder."
The Times 4*
---
News | Joseph becomes first accompanist to be listed in the Evening Standard's "The Progress 1000:London's most influential people"
Listed alongside artists Adele, Thomas Ades, Daniel Barenboim, Stephen Hough, Sir Elton John, Sir Antonio Pappano, Radiohead, Sir Simon Rattle, Sir Andras Schiff, Sir Bryn Terfel, One Direction and leaders in the arts including Jude Kelly, Nicholas Kenyon, John Gilhooly, David Pickard, Joseph becomes the first pianist specialising in chamber music and song to feature in the Progress 1000 list. https://www.standard.co.uk/news/the1000/the-progress-1000-londons-most-influential-people-2017-performers-music-a3655676.html
Joseph's citation reads: "Recipient of the Royal Philharmonic Society's Young Artist Award, Middleton has been working with top singers all over the world, serving also as a Professor at the Royal Academy of Music."
---
News | Joseph becomes first accompanist to win Young Artist Award at RPS Awards
Joseph Middleton has won the Young Artist Award at the 2016 Royal Philharmonic Society Music Awards. The RPS Music Awards are the highest recognition for live classical music-making in the United Kingdom and past recipients of the Young Artist Award include such luminaries as Yannick Nézet-Séguin, Gustavo Dudamel, Daniel Harding, Ian Bostridge, Angelika Kirchschlager, Igor Levit and Iestyn Davies.
The Young Artists Jury commented on Joseph's success:
"In a shortlist notable for creativity, artistic excellence and impact, the winner in this category has been hailed as a born collaborator, equally at home in partnerships with leading international artists and also supporting young performers whose careers he nurtures. Demonstrating dedication to the field of chamber music and song, his commitment is exemplified as Director of Leeds Lieder, a festival of imaginative programming, wide-ranging activity and community engagement. The winner of the Young Artists category is the pianist Joseph Middleton" For more information, please visit: https://rpsmusicawards.com/index/2016-young-artist
Winner of the RPS Music Award for Young Artists
Photographed at the RPS Music Awards, London, Tuesday 9 May
Photo credit required: Simon Jay Price
---
Season round-up 2014-15
The 2014-15 season began for Joseph with the great honour of accompanying Sir Thomas Allen on his 70th Birthday tour of Winterreise. They gave the work at the Dublin National Concert Hall and in Manchester, Cardiff, Birmingham, Oxford and Frant, receiving glowing reviews. The Independent praised Joseph's 'impeccable taste' and commented that the duo proved 'a marriage of musical minds serving Schubert with total dedication…Assertive and incisive [Middleton] is continuously in tandem with Thomas Allen's soul-searching insight into Müller and Schubert'. The Irish Times wrote of his 'tastefully graded piano accompaniment…an object lesson in concentrated, unflinching characterisation.' In Birmingham the reception was equally as enthusiastic with the Birmingham Post writing that their performance was 'a recital to treasure… Middleton discreetly joined forces with lovely phrasing and imaginative, but never overwhelming collaborations. His breathless pianissimos are a joy; achingly sad minor passages contrasting with brief flashes of caressing major sunlight. There was splendid clarity for The Post Coach (but, alas, no letter); more ferocity for a brief storm then a heart-stopping velvety long introduction for a"pitiless tavern".' Sir Thomas and Joseph look forward to another recital tour in the Spring of 2016.
Other recital highlights of the season included Joseph's continued partnership with Sarah Connolly. Their recital at New York's Alice Tully Hall was described in the New York Times as 'superlative…everything a recital should be' and included works by Schubert, Mahler, Copland and Elgar. Sarah and Joseph also gave recitals at the Three Choirs Festival (including the  World Premiere of Torsten Rasch's A Welsh Night) and in Cheltenham's Pitville Pump Room. In Cheltenham they gave a recital that included Ravel's Sheherazade, a work they will record for the BBC next season at the Bath MozartFest. They also performed together in Cambridge and at the BBC Music Magazine Awards.
With soprano Carolyn Sampson, Joseph recorded a recital album entitled 'Fleurs'. Released on the BIS label, the CD received a nomination for 'Best Solo Recital' at the Gramophone Awards, was Disc of Month on Radio France, and has garnered enthusiastic  reviews internationally. Opera Now described Joseph as 'a perfect accompanist', the New Zealand Herald called him 'that excellent pianist', The Guardian commented that he 'plays with dextrous delicacy throughout and brings real virtuosity to Strauss' and BBC Music Magazine wrote that 'The bouquet was Joseph Middleton's idea, and his fluent and always idiomatic playing accompanies Sampson with glee and grace throughout'. Carolyn and Joseph enjoyed recitals at Het Amsterdam Concertgebouw, and festivals in Saintes, Munich, Malvern, Leeds Lieder and Chipping Camden. Next season sees them return to the studio to record two further recital CDs.
Other recordings over the past twelve months have included many projects for BBC Radio 3. Live in recital from the Wigmore Hall, Joseph gave a recital of Scandinavian song with Katarina Karneus, and a Schumann programme with Kitty Whately. He recorded prolifically for the BBC's New Generation Artists scheme: with Benjamin Appl in Schubert's Winterreise, Schumann's opus 24 Liederkries and Schubert's Harfenspieler; with Olena Tokar in songs by Schubert, Mussorgsky and Liszt; and with Mark Simpson and Lise Berthaud in piano trios by Mozart, Bruch and Schumann.  Joseph was also invited to curate his own weeklong series of Radio 3 concerts broadcast from Cowdry Hall in Aberdeen. For this, he turned to the songs of Duparc, his friends and contemporaries. These recitals were given by John Mark Ainsley, Mary Bevan, Catherine Wyn Rogers and Jane Irwin. Joseph also appeared live in recital on BBC Radio 3 in an all-Schubert programme with Benjamin Appl and a Poulenc programme with Jonathan Lemalu from Royal Conservatoire of Scotland.
Joseph's other commercially released recordings this season included a disc of English song called 'This other Eden' with Kitty Whately and the Navarra Quartet, 'You promised me everything' (the vocal works of Cheryl Frances-Hoad) with Jennifer Johnston, both on Champs Hill Records and 'Love said to me' with Caroline MacPhie on Stone Records. The Classical Reviewer gave Kitty's disc 5* and praises Joseph's 'terrific support' and 'perfectly controlled performance' while BBC Music Magazine writes 'Joseph Middleton's piano accompaniments are equally fine.' In The Telegraph Rupert Christiansen praises the 'vividly stylish and responsive accompaniment from Joseph Middleton enhancing the delightful musical menu' on Caroline's disc of Poulenc, Wolf, Strauss and others. Continuing his commitment to new music, Joseph was thrilled to record the Cheryl Frances-Hoads' 'One Life Stand'. Jennifer and Joseph gave the world premiere at Opera North before recording the work. Opera Today commented on the ' diverse scintillating piano textures and figurations which are articulated with bright clarity by Joseph Middleton…the wriggling piano accompaniment to 'Rubbish at Adultery' meticulously executed by Middleton.'
Highlights in various recital halls included with Christiane Karg at Wigmore Hall, Luxembourg Philharmonie, Darmstadt Oper, Venezuela, Oxford Lieder Festival and Cambridge, with Christopher Maltman at Westminster School and Wardsbrook Song Festival, with John Mark Ainsley in Cambridge and Oxford, with Ruby Hughes at Newbury Spring Festival, Roman River Festival and Wotton House, at the St Magnus Festival with Isobel Buchanan, the Zürich Tonhalle and in Toulouse with Nicky Spence and with Louise Alder at the Wigmore Hall, where they won the Young British Soloists' Competition. They will record their debut album together for Orchid Classics next season.
Joseph's song ensemble, the Myrthen Ensemble, together with Mary Bevan, Clara Mouriz, Allan Clayton and Marcus Farnsworth, gave recitals in Tetbury, at the Bath MozartFest for BBC Radio 3 (in The Sunday Times, Hugh Canning noted that the ensemble was 'superbly partnered by Middleton'), at the Wimbledon International Festival and Northern Aldborough Festival and they recorded their debut disc for Signum Records. This will be released in time for their Wigmore Hall appearance next season. The ensemble's performance in Wimbledon was selected as an 'Unmissable Event' in BBC Music Magazine: 'Heirs to pianist Graham Johnson's much-missed Songmakers' Almanac, The Myrthen-Ensemble follows their example with an irresistible combination of arresting programming and vocal flair assembled around pianist Joseph Middleton.'
In addition to his playing, Joseph is thrilled to be appointed the new Director of Leeds Lieder – 'one of the most exuberant and far-reaching festivals of art-song in the UK.' (The Times) Joseph will work alongside Roderick Williams to curate the next Festival, to be held 1-3 April 2016. He has also programmed an exciting 2015-16 season of recitals at Opera North, Leeds University and Leeds College of Music. Leeds Lieder boasts a busy education project and this compliments Joseph's work as College Musician at Pembroke College Cambridge where he directs the Pembroke Lieder Scheme for Cambridge University students and curates an imaginative song series. Last season Joseph was also invited to give masterclasses for Samling at the Sage Gateshead and took up a post as a visiting coach of song at the Royal Welsh College of Music and Drama.